Do you passionately believe every child deserves a great childhood?
Are you looking for ways to strengthen families in our community?
Join Arden Shore Child and Family Services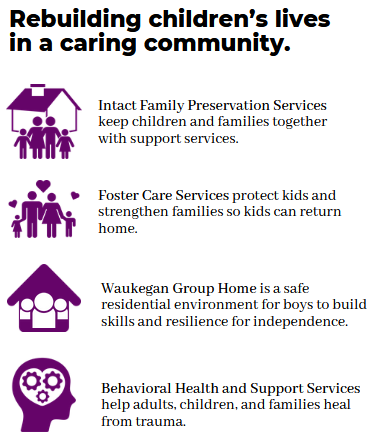 Arden Shore Child & Family Services seeks a Master's Level therapist in counseling, social work, psychology, or other human service field.
The Behavioral Health Program provides services to individuals and families including individual, family and couples counseling to community members, those involved with the child welfare system and probation. We also provide substance abuse services, domestic violence services, anger management and trauma informed parenting. We currently accept private pay clients as well as clients who have insurance through the Department of Human Services or one of the Managed Care Organizations. Arden Shore provides a number of services in both English and Spanish. Spanish speaking clinicians are strongly encouraged to apply.
Position Requirements
Licensed or license eligible in Illinois as indicated by program. Experience with schools, courts, and child protection in DCFS or similar systems preferred. Ability to work some evenings and Saturday morning. Ability to function independently, to coordinate with other professionals, and to synthesize material from a variety of sources. Ability to respond appropriately to the cultural differences present among the agency's service population. Meets all applicable employment regulations set by the Illinois Department of Children and Family Services and other regulatory agencies. Ability to communicate in Spanish orally and in writing strongly preferred.
General Job Description
Provide in-office counseling and/or therapy services to the youth and adults involved in Arden Shore's child welfare programs, including a 7-bed group home for teenage boys, children in foster care and their biological parents and the children and parents involved in DCFS intact services. Additional clients may also come from surrounding communities, including the Latinx community. Services include individual, group and family counseling. Additionally, therapist will provide clinical perspective and support to the group home milieu team and participate in facilitate educational groups. Counselor must be conversant with and observe professional ethics, privacy practices and Council on Accreditation standards. Hours: Full-time hours with flexibility to meet needs of children and families.
Resumes and emails of interest should be sent to the Director of Behavioral Health & Support Services; Katie Foster, LCSW.